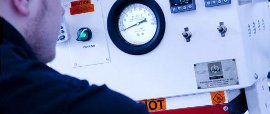 Technical Support
Technical Support
Reputation of quality and experience.
Attwater have been at the forefront of develpment of thermoset plastics and composites for four generations. They have worked with a wide array of bluechip companies to produce components for sectors as diverse as Aerospace, Automotive, Marine and Power Generation.
Through these close relationships, Attwater are continually developing and testing new products to fit the often challenging requirements and needs of their customers. The advantage of having such a diverse range of products is that Attwater's products can be used in countless applications in every industry sector.
There are many companies who stock and offer machining services for industrial laminate and tube. Attwater's products are developed in-house, manufactured in-house, machined in-house and tested in-house. This makes their understanding and knowledge of material characteristics, technical standards and applications world class.
Which product?
Attwater offer a range of laminated composite sheet, tube and rod. Materials are typically chosen based upon their mechanical, thermal or electrical insulative properties. Often customers will specify a product based upon a standard or specification. Where appropriate Attwater products are manufactured to BSEN 60893 (IEC 60893) or BSEN 61212 (IEC 61212) and can be released under our AS9100 / ISO9001, Airbus UK, GKN Aerospace, Westland Helicopters, BAE Military, BAE Regional Aircraft approvals.
All product details and datasheets are available on-line to help customers with their product selection. Should you require further assistance please contact us or telephone a member of the technical sales team who will be happy to advise which materials will be best suited for your application.