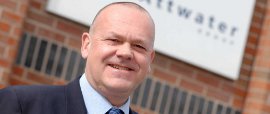 MD's Welcome
Meet The Team
MD's Welcome
What's next?
Given our 150 years history, it's tempting to look back and reflect on how far the Attwater & Sons Ltd has come, but I prefer to look forward and see where we're going next.
That's because it's by looking forward, not back that we best service our clients. It was by looking forward that we became involved with the UK's first electric tramways. It was how we created the first commercially viable sheet plastics. It was by looking forward that we were able to develop composites, laminates and insulators that helped the aerospace industry take its next steps.
Attwater's expertise
Each innovation, whether it be the development of the latest phenolic paper or a new machining technique, only happens because Attwater has a history of recruiting, nurturing and realising the best from people whose skills put them at the forefront of their industries.
It means that when sectors as diverse as defence, oil and gas, rail, and aerospace call on our skills, we're ready and able to help.
Acquisitions
Looking forward means not standing still. This is why we acquired Custom Composites and Shannonvale Tubes Ltd, to develop and strengthen our tube manufacturing base.
Innovation as standard
Being at the forefront of innovation means that when our clients tell us about their latest project they're telling us about something that frequently hasn't been done before. That's when they rely on us to develop solutions that work, on time and on budget. Delivering that service is a challenge we relish.
Our history is built on developing industrial laminates, insulators and machining services that have helped our clients achieve new and exciting goals. I'm looking forward to what's next.
Richard Attwater
Managing Director