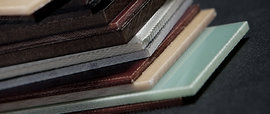 Specialist Composites & Laminates
Product Groups
Specialist Composites & Laminates
Innovation and Creativity in Composites and Laminates
Creating special composites and bespoke laminates specifically for your product
When you have a team at your disposal with decades of experience and flexible manufacturing capability, you can create special composites and bespoke laminates specifically for your product.
Attwater customers challenge us to produce innovative composites that meet their specific goals. We work in close partnership with them to meet their challenges and produce new products that perform.
Performance in partnership
It's this partnership that has resulted in specialist products such as a range of elastomer faced sheets used in petrochemical gasket manufacture and electric motor parts. And it has led to innovative epoxy bonded Kevlar / Nomex paper, intumescent sheet, phenolic paper and cotton hybrids, Kevlar laminate, glass and carbon fibre faced laminates and anti-ballistic sheet.
Whatever your challenge, the Technical and Production teams at Attwater have the skill and experience to help you meet it.
To view our Specialist Composites & Laminates - Click HERE.
Contact us and discuss your high pressure laminating requirements.