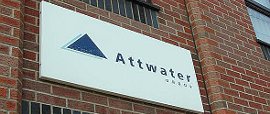 About Us
About Us
UK Industrial Laminate Manufacturer
Attwater & Sons Ltd is the longest established manufacturer of industrial laminate in the UK. It was established in 1868 by Richard Henry Attwater and is still in the Attwater family to this day.
Our team includes some of the UK's most highly respected technical experts creating products that have been used in countless applications from trams to white goods, cars to aeroplanes and power generation.
We help our customers every day to secure business for the future. Our focus is to provide great service and prove that we are not just a supplier, but that we are a partner in every way from development through to production. We know that it is why we are still market leaders today.
Your invisible partner
Our product development and manufacturing expertise are not the only reasons our customers choose us. They want our products to arrive as agreed, exactly to specification, without fuss and on budget. This is important to us because our clients have production lines and supply chains that reply on us getting this right. This is why, for over 100 years, Attwater's has taken pride in not just in the innovation of what we do, but the way we do it.
Whatever your manufacturing goals, achieve them by working with us at Attwater Group. We are looking forward to helping you.
Contact our team today on +44(0)1772 258245 or via our contact form where we will get you started.