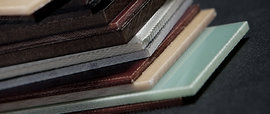 Paper Based Laminates - SRBP
Product Groups
Paper Based Laminates - SRBP
Phenolic Paper Laminates (SRBP) Products
Performance, whatever the application.
For years, Attwater phenolic paper laminates have been an established part of countless industries.
Designed to meet specific industry requirements, Attwater high specification phenolic paper laminates meet International, European and British Standard BSEN60893. They are available in a range of grades and types to meet your applications' most rigorous demands. Our products are also commonly referred to by the following trade names :- Tufnol®, Paxolin, Pirtoid and Micarta amongst others.
Specifications vary according to type, but in general phenolic paper laminates offer:
Excellent electrical insulating properties
High insulation resistance
Low moisture absorption
Good mechanical strength
The capacity to warm or hot punch to form complex parts
Easy machining to a good finish
A range of special finishes and colour combinations
From terminal boards to bus bar supports, flash barriers to jigs and fixtures, find the phenolic paper laminates for your product at Attwater.
To discuss your requirements please contact us.
Phenolic paper laminates are ideal for:
Electronics components
Electrical switchgear
Lighting
LV Transformers
MV Transformers
Grades include: