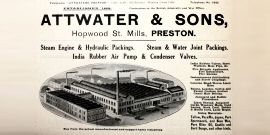 The History of Attwater & Sons Ltd
Attwater History
Attwater & Sons Ltd History
A life in industrial laminates and composites. In fact, choose any market sector around the world and you are likely to find materials manufactured or supplied by Attwater & Sons Ltd.
We are acknowledged as a world class manufacturer of industrial laminates. We have developed many niche products for our customers for specific applications over the years, starting life in 1868, providing chandlery services for steam ships and supplies for the steam powered industrial mills. Since then, our innovations and creations have been fundamental to almost 150 years of manufacturing advancement.
A brief history of Attwater & Sons Ltd
1885 - 1925
MICA–based insulating materials introduced into the UK's first electric trams and insulating materials were developed including varnished tapes, and micanite sheet bonded with natural resins such as shellac.
1925 – 1940
Development and production of commercially viable plastic sheets in the form of the famous Bakelaque range of laminates. Development of superior grades of phenolic paper for use at radio frequencies and development and manufacturing of tubes and moulded parts
1939-1945
The company's manufacturing and machining resources were committed entirely to government work providing materials and parts for the armed forces.
1946-1985
Development of a range of silicone glass reinforced laminates and tubes for both UHF and radar applications and for use at high temperatures. Special grades of melamine glass reinforced laminate developed for use in harsh marine environments.
1986-2000
Polyimide laminates are developed for the European Fighter Aircraft, and static dissipative laminates for use in automatic test equipment for electronic assemblies. Many specialist products for specific applications introduced including elastomer faced composite for sealing applications, PTFE faced composite for use in SF6 switchgear, Anti-Ballistic materials for use in bullet proof and blast containment applications. Expansion of machining capabilities by the introduction of CNC machine centres.
2001-present
CNC machining capabilities expanded and increase in production of machined components for the aerospace, automotive and electrical market sectors. Technolaque very high performance laminates developed for use in electronic assembly and power electronics.
Specialist tube manufacturers Custom Composites and Shannonvale were acquired facilitating the expansion of tube manufacturing capacity. Manufacture of specialist tubes into markets as diverse as power distribution, marine and sports equipment and nuclear decommissioning. Special grades of composite for use in components for demanding sealing applications, Ballistic liners for military vehicles and carbon fibre composite products were developed.
Part of your machine
Our history is one of developing industrial laminates, insulators, composites and machining solutions that help our clients' projects work. From radio to railways, aerospace to automotive, we can help you succeed.