Attwater invests in the future with latest apprentice intake
Attwater invests in the future with latest apprentice intake
As industrial laminates specialist Attwater celebrates its landmark 150th anniversary, the Preston-based business is investing in the future with the appointment of four new apprentices.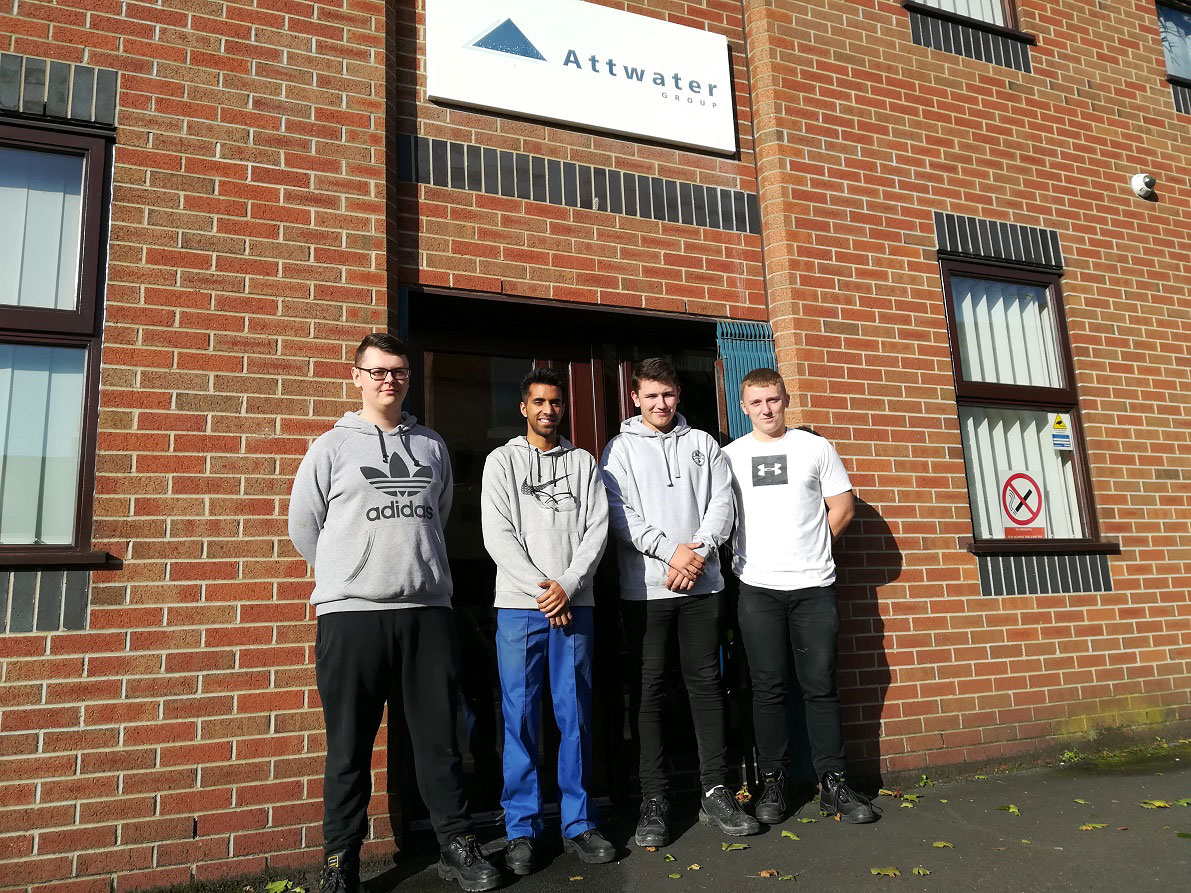 New recruits from left to right: Lewis Gore, Anand Chauhan, Joshua Squires, Jonathan Cardwell
The new recruits will be taught the skills and expertise that have helped position Attwater as an industry-leader, establishing a solid foundation for its long-term success and growth. On completion of their training, they will become fully fledged members of the Attwater team.
Two of the new apprentices will work on the administration side of the business, and two more will be hands-on engineers.
Working in production, 21 year old Jono Cardwell will help schedule new work and report results back to the management team. He will utilise Attwater's new ERP system and help produce quotes for potential new work by providing accurate estimations of production times.
Josh Squires, 18, will help oversee quality control, running daily quality tasks including monitoring and recording aspects such as machine performance and customer satisfaction. The role is crucial in Attwater maintaining its AS9100D & ISO 9001:2015 standards.
Anand Chauhan, 18, help maintain both the company's premises and its intricate machinery. He will be involved with planning routine maintenance, handling breakdowns and repairs and working with health and safety coordinators to ensure compliance.
Lewis Gore, 20, will be trained to work on the CNC milling and turning machines. The role will involve programming machines to produce parts to the specific demands of customers, inspecting final work and managing databases to ensure all vital information is accurately logged.
Andy Goode, the company's new managing director, said: "One of the key factors in Attwater's success to date is the technical knowledge and relationship building skills of our staff. The future of our company lies in bringing on board new, younger team members who have the enthusiasm, fresh ideas and youth to continue our work for decades to come.
"I welcome Anand, Jono, Josh and Lewis to our company and look forward to working with them as they learn more about what we do and go on to contribute greatly to our next 150 years in business."