Attwater carbon fibre tubes help Lyndon Poskitt in Baja Rally
Attwater carbon fibre tubes help Lyndon Poskitt in Baja Rally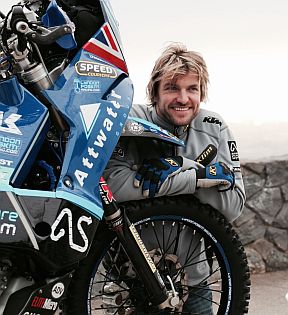 When you're rallying 1500km across some of the toughest and most desolate terrain in Mexico you need to be sure that your bike is up to the job. But with a little help from us, Lyndon Poskitt was not only able to have full confidence in the equipment he was relying on – he also went on to gain his best result ever in an international rally.
Lyndon came 2nd overall in the infamous Baja Rally in Mexico this year. And he thanked the Attwater Group for helping him to get ahead of the competition in the gruelling four day event.
His purpose-built bike uses Custom Composites' carbon fibre tubes for the reliable and safe mounting of his crucial navigation and safety equipment – which meant he could have complete confidence during long stints over rough terrain, hundreds of kilometers from civilization.
After the rally Lyndon said: "The competition was close, I gave it everything and got the best result I ever have in an international rally, mission accomplished".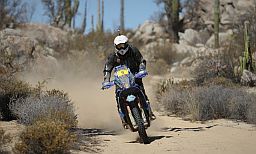 "My Attwater KTM 450 Rally bike which I built and prepared myself before the rally performed faultlessly, not one mechanical or electrical issue throughout the race. Despite two crashes, all of the important bits performed as they should. I'd like to thank Attwater for their continued support and for helping to design and build some of the lightest and strongest parts for the job".
Off-road rally racing is seen as one of the most challenging forms of motorsport in the world.
Lyndon spent three months preparing for the arduous event after shipping his bike to San Francisco. His preparations included a two week complete overhaul of his bike. He found himself up against fierce competition with eight times Baja 1000 race winner and Honda Factory Rider Steve Hengeveld from the USA being tipped to win. The USA's Cameron Steele was also expected to be one to beat.
From the very first day Lyndon made a good start but was in no doubt that challenges lay ahead.
"Navigation was tough and the terrain relentless, a sign of a difficult rally ahead," he said. On the second day he got lost after making a huge navigation mistake – losing almost 15 minutes in the process.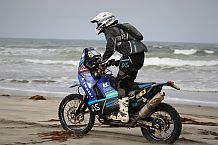 "Day Three was probably my worst and toughest day of the rally," he said. "Two relatively large crashes knocked my confidence in the first part of the day and took me some time to regain commitment. The terrain was very rough and I was feeling tired after many hours in the saddle and a little battered and bruised. After the first refuel point at around 200km, I got back into a rhythm and pulled the leaders back but again to finish 2nd place for the day and head into the final day in 2nd overall."
"The final day and the biggest day of all, going into today in second overall just minutes behind the leader I knew I could either go for 1st and risk a heavy crash or ride like I know best for a solid finish and hope the opposition made mistakes and not me. Choosing the latter, I rode faster than I ever have before but the field also upped their pace. I had a clean and fast ride to finish 3rd on the final day and maintain 2nd overall just minutes behind Honda rider Steve Hengeveld. "