Mark's Long Service (25 Years)
Mark's Long Service (25 Years)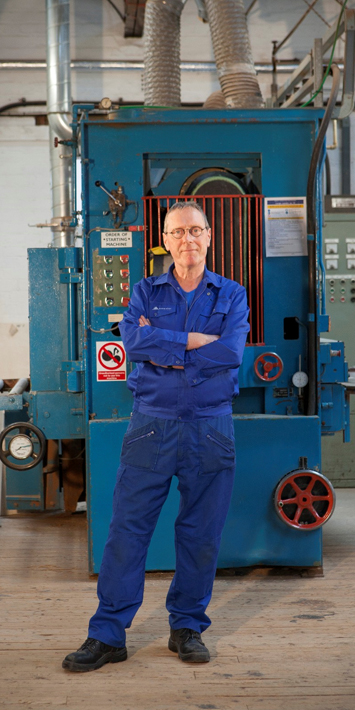 Mark Burrow did not get off to the best start when he joined Attwater in 1990.
Just a couple of months after beginning his job as a press operative the company went on a three day week and he was laid off.
But he had already made a good impression and he was taken on again when business picked up.
Now he is celebrating 25 years with the company, where he has also worked as a tube winder and a turner before becoming turning department supervisor
He said: "I started on the press as a press operative then moved to the tube shop as a tube winder then in 1993 went to the machine shop – and I've been there ever since as a turner. I do the CNC turning and the manual turning. I'm the turning department supervisor."
Mark, 59, is no stranger to inauspicious starts. Before joining Attwater he worked for Courtaulds and he remembers dramatic events on the day of his interview.
"The day I went for an interview it burnt down," he said. "They were waiting for their interviews with the MD and ten minutes before I had it, the factory burnt down."
He still managed to get a job at Courtaulds where he began work as an apprentice.
But he has no doubt where he would prefer to be, "I'm glad I'm working here rather than Courtaulds," he said.
"I really enjoy the job – I get on with everyone I work with. I love it here – it's the best thing I ever did. There's a hell of a lot of other jobs to do and I love the variety and the skill needed."
During his career he has learnt on the job, progressing to the tube shop and the machine shop as the opportunities arose.
He said: "There was very little computerised work. Everything was done with paperwork. So I was taught by others how to turn and mill. You never ever know it all. I'm still learning. But now people come to me for advice."I really enjoy seeing customers come round the shopfloor. I've even taught a customer how to turn something! I'll keep that to myself."
He described the effect of computerisation.
"It's all moved on a bit now with CNC lathes. It makes a real difference. When it was manual, I could do 70 to 80 a day, but then when it was computerised we could up to 300 a day and they would all be exactly the same. And I don't have to be doing it."
Mark, who grew up around Preston, lives very close to his work and has even managed to cycle home in three minutes. In his spare time he is a keen angler, enjoying coarse and trout fishing in the River Ribble and Darwen.
Sales director Rachael Kennedy said: "Mark's one of our unsung heroes. He's a real quiet star, who does a cracking job. He's a really skilled turner."
Martin Bate, finance director added: "I always maintain you're an Attwater person or not – we're a close knit team, so people sees your successes and failures. We're a real family business and treat our staff like family. It's why we've got such loyal employees."
Mark was presented with a £500 voucher to mark his 25 years of service.