Phil's Long Service (50 years)
Phil's Long Service (50 years)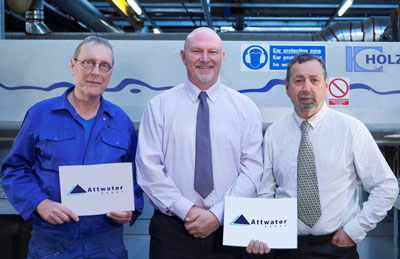 Phil Parker started work at Attwater in the year England won the world cup. And while the national team has failed to recreate its moment of glory Phil's career has gone from strength to strength.
Now retiring after 50 years the head of the joiner's shop has been looking back at a successful and enjoyable career where half a century has simply flown by.
Phil, 65, joined Attwater in1966, and while he says "England's been downhill ever since!" his own fortunes have been on the up and up.
He got the job through his school – Ribbleton Hall High School – at the age of 15. "They found out what you were interested in and sent you to it," he says. He was interviewed and started work the next day.
He had no major certificates when he was taken on as an apprentice machinist, but he worked to improve his qualifications with the help of the company.
Phil, who says Attwater was very good to him – took three years to gain a 2nd class certificate, followed by five year to achieve City and Guilds, and a further three years for a master's certificate. In all he attended Blackburn College one day a week for 11 years.
He has fond memories of his time with the company.
"The main thing that kept me here so long was the people and characters, and the variations in the job," he said. "It was a very interesting job to do. I never looked at the clock because time flies. It only seems like yesterday when I started. It's been a good life and I've really enjoyed it."
"When I started, the company was much larger. Attwater's had 50 women on the mica shop - maybe over 100 staff in total, compared with 35 now.
"It was also when there was a site in Penwortham, and in the time of Mr Heath's power cuts, we had power in Penwortham sometimes but not in Preston, so we had to go over there to do the trimming because they were the only ones who had the electric."
"There's been all sorts of changes – but it's the people who have remained lovely. You have to get on with people, and the fact is, there's been times when Attwater's have stuck with everyone – it's one of the good things I've liked about here."
While the management have changed a lot over his 50 years Phil says he has got on well with them all.
"When I started, there were seven Attwater family members here. There's still a family member at the helm, but just the one now. There have been some great Attwaters here. Michael (the current MD's dad) was a good'un for that. If you were stuck, he would get his overalls and give you a lift."
Five decades have seen big changes in the industry.
"Technology has moved on, and materials have changed. Machines have changed too, also the style of how you've worked. But all in all, I think it's gone all right."
The other big change is the rise of computers.
"I don't like them. I'd rather use my brain than a computer," he said. "It's changed the process of how we've worked. I knew exactly what material we had, even before I've gone into the stores. I don't need a computer. But that's life. The automation has changed."
Phil, who lives in Little Brookfield, has bought a house in Portugal which he plans to move out to permanently on his retirement. And he should have no trouble furnishing his new home thanks to a retirement gift of £1,000 worth of Ikea vouchers.
Looking back on a lifetime's work with the same firm he said: "It might've been destiny or luck. I came to Attwater, had my first interview and just stopped here! It's been like being part of a family within a family."