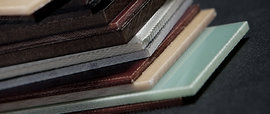 Tubes
Product Groups
Tubes
Attwater - Traditional Tubes Range
Note: Tubes are not manufactured in-house
A phenolic paper tube with good electrical and mechanical properties. Ideal for electrical components and switchgear, lighting, LV and MV transformers, automotive and general engineering. Complies with BSEN61212 types PFCP23 and PFCP24 (supersedes BS6128 PFCP81 & 82). Read More
The T10 phenolic cotton tube is manufactured from fine weave cloth and phenolic resin. It exhibits excellent electrical and mechanical properties and may be machined to a fine finish. Complies with BSEN61212 PFCC21 (supersedes BS6128 PFCC81). Read More
A high quality phenolic cotton tube manufactured from medium weave cloth and phenolic resin. T12 tube exhibits good mechanical and electrical properties and machines well. Complies with BSEN61212 PFCC22 (supersedes BS6128 PFCC82). Read More
A high quality silicone glass tube manufactured from a medium weave E-glass fabric with silicone resin. T32 exhibits excellent electrical properties coupled with low water absorption, good insulation resistance and is suitable for use both at high temperatures (200°C continuous) and in high frequency applications.
Complies with BSEN61212 SIGC21 (supersedes BS6128 SIGC81). Read More
A high quality epoxy glass tube which is suitable for use at 155°C (Class F). T36 exhibits excellent mechanical and electrical characteristics, low water absorption, high insulation resistance and excellent resistance to axial compression. Complies with BSEN61212 EPGC22 (supersedes BS6128 EPGC81). Read More
A high quality epoxy glass tube manufactured from brominated epoxy resin with a medium weave glass-cloth suitable for use up to 130°C (Class B). T38 tubes offer mechanical and electrical properties similar to those of T36 with improved resistance to burning. With a thicker wall than other glass grades the T38 is less susceptible to stress cracking. Complies with BSEN61212 EPGC21. Read More
.A high quality tube produced from epoxy resin and fine weave cotton cloth. The tube has excellent mechanical and electrical properties and a high comparative tracking index in excess of 500V. The tube is light tan in colour and machines to a very good finish. Read More
The tube is offered as an improved epoxy grade with similar properties to T36 but better mechanical properties at elevated temperatures making the product suitable for use at Class F (155°C). Complies with BSEN61212 EPGC22. Read More
Talk to us about your application and let us find your ideal material and manufacturing process.
Higher temperatures, improved performance, better machinabilty, lower weight and a finer finish: composites bring a multitude of advantages compared to traditional materials.
In partnership with our partner sectors we are constantly developing new applications for our glass fibre tubes. It is this drive for new applications that has seen our products used in cryogenic (liquid helium) vessels, rollers and airshafts for converting machinery, robotics and high speed automation, oil industry products, medical prostheses, smoke detector maintenance equipment and many more.
What we do helps business' products perform better and become more cost-effective. We can do the same for you. Talk to one of our experts about harnessing the benefits of composite materials for your business.
Exceptional composites. Exceptional service. Exceptional sense
With decades of experience and an expertise acknowledged around the world, trusting us to design a bespoke product for your application makes sense in a multitude of ways. It reduces development times – helping you meet the tightest of deadlines. It ensures the finished product will perform. It gives peace of mind. It cuts costs.
Any size, high strength, high or low temperature, price sensitive: whatever your specific requirements we'll be able to meet them.
From initial design to fully machined, bonded and finished components (in a range of paint and varnish finishes) let Attwater create composite materials tailored to the products you develop next.