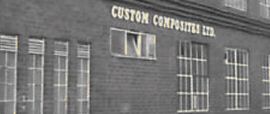 The History of Custom Composites Ltd
Custom Composites History
Custom Composites Ltd - History
Setting the standard in composite tube manufacturing
Custom Composites Ltd began in 1982 when the 3 founders, each a senior composite engineer, seized the opportunity to create a new type of composite business. They offered a unique blend of bespoke composite design skills and high quantity manufacturing.
Today, it is this niche product support and development, balanced with mass production capability that makes Custom Composites the trusted supplier to electrical, defence, sports, marine and industrial sectors. This is why much of what Custom Composites does is now seen as the industry standard.
A brief history of Custom Composites Ltd
1982
Custom Composites Ltd is formed and operates from a converted mill in Bury, Greater Manchester.
1983
Glass fibre / epoxy insulating tubes for use in overhead high voltage power line handling are introduced – a product still being produced today.
1984-1989
During this time composite antennae assemblies for the Clansman and Ptarmigan battlefield communications systems are developed. Carbon fibre tubes are used in applications as diverse as medical prostheses, motor sports and musical instruments. As the portfolio expands so does Custom Composites and the company moved to larger premises at Castleton in Rochdale.
1990 – 2000
More than 300 15m lightweight carbon fibre telescopic military communication masts for US and NATO forces, were produced. They were deployed during both Gulf wars. The masts proved to be one of the most successful products in Custom Composites' history.
Further expansion into sports goods, meaning that Custom Composites became the market leader in highly specialised carbon fibre mountain bike suspension forks.
2000 – 2008
In close partnership with the GB team Custom Composites developed a range of lightweight carbon fibre steering equipment for international standard dinghy racing. This individually tailored equipment helped Ben Ainslie (Laser class), Iain Percy (Finn class) and Shirley Robertson (Europe class) win gold in the 2000 Olympics in Sydney – a proud time for the company!
Once again, Custom Composites helped the GB team win Olympic gold again in Athens and Beijing.
2008
Custom Composites became part of the Attwater Group, a natural move, since the company had been working closely with Attwater for many years.
2009
Attwater Group acquired Shannonvale Plastics, specialist manufacturers of epoxy glass and carbon fibre tubes. Staff at Custom Composites combine to create a team of unrivalled knowledge and experience. Once again, expansion means another move and this time it is to Ensor Mill, Castleton, Rochdale.
2010 - 2011
Advanced carbon fibre based products for the nuclear reprocessing industry are developed and the company achieve Quality Management accreditation to ISO 9001 status.
Part of your machine
As our history shows, the applications for our carbon fibre and glass fibre tubes are almost without limit. But wherever they are used, they have one key factor in common. They help our clients' projects work. They improve performance. They give them the edge. Custom Composites' work helps manufacturers succeed. We can do the same for you.